I'd been in the Cairngorms for over a week, but the start of that period I'd kept away from the big hills thanks to high wind forecasts (and, as it turned out, high winds in reality). So the second week of my trip was going to involve back-to-back days of hills, and this was the third in a row. I was just about starting to feel it, and my legs grumbled a little at cycling out to Linn of Dee yet again. This time I was joined by Andrew and Shona, who were themselves up in Braemar, also here to climb Munros. We met at the Linn of Dee carpark and then cycled on along the same track I'd taken two days earlier to get to Derry Lodge.
In contrast to the last walk I'd started here, which involved a fairly long flat walk to get to the start of the climb up Càrn a' Mhaim, today's walk would see us starting the climb up Beinn Bhreac almost directly from Derry Lodge. It was already warm by the time we'd reached the lodge, and the forecast promised to remain good for the rest of the day as we left the bikes, and climbed up through the woods for a couple of kilometres. We almost missed the point where we needed to turn off the rather good path and continue up a heathery slope, had it not been for two other walkers who we bumped into on the path who had back-tracked and spotted the small cairn. From here it was a straightforward limb up to a bealach between the main summit of Beinn Bhreac and one of its outlying tops, and from here it was only another couple of hundred metres of climb to get to the main summit.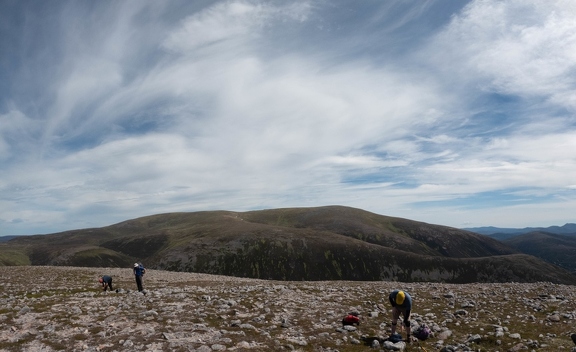 We were now confronted with a long walk across pretty flat terrain to reach Beinn a' Chaorainn, which rose as a distinct summit well ahead of us. The plateau between the summits is one of the largest areas of bog in the northern Cairngorms, and we were fortunate that it had been very dry for the last few weeks and could make quick progress across; the terrain would have been much more unpleasant had it been… damper. The views from the summit of Beinn a' Chaorainn were, however, spectacular, taking in Beinn Mheadhoin, Derry Cairngorm, and Bynack More in a sweeping panorama.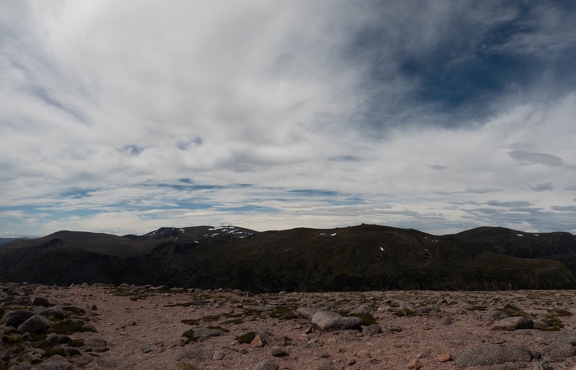 From here we dropped back down into the Lairig an Laoigh, and after deciding against the notion of extending the trip up Beinn Mheadoin and Derry Cairngorm, we made our way back out to Derry Lodge and onwards to Braemar.
Share
Share
Share