I'm now fast approaching climbing my hundredth Munro (indeed, until I recounted while preparing this blog post, I thought I was sitting on 99 already, but it turns out I'm not quite there, though by the time you'll be reading this I should be!). I've been pretty bad about writing walk reports for each individual hill so far, and it's high time I sorted that out by producing one great omnibus collection. It's turned out that walking Munros has become one of the major focusses of life outwith work, so it seems only fitting that I give the effort so far a reasonable write-up.
*I've ended up splitting this into three parts in order to try and keep the size of each post under control. This one covers 2019, and 12 Munros. Part one covers 2015 (just one Munro!) and 2018 (31 Munros). Eventually 2020 (26 Munros), and 2021 and 2022 together (25 and 1 Munros, since 2022 has only just started…) will get posts too.
2019
2019 was never destined to be a great year for hill-climbing. It was the spring (and, mostly, summer) in which I had to complete writing-up my PhD thesis, and also coincided with me starting a new job. While those were both fairly positive things, neither allowed for a lot of free time.
This all said, a few carefully managed big trips allowed me to climb a good few in the time I did have.
033: Beinn Bhuidhe
We'd had a run of good spring weather, and we decided that completing a rather tricky outlier was the right way to start the season. And so myself, Shona, and Andrew arranged to meet Magnus at the Head of Loch Fyne, and walk up to Beinn Bhuidhe.
This was the first hill we'd done which had a sizable walk in and out along a fairly flat road (though we'd had around an hour's walk along a fairly flat road for Ben Lui the year before), and in retrospect the vast majority of the private road would have been bikable, even on a road bike. It was already warm when we set out, and after the 6-km walk in we were already hopeful of a good breeze once we started climbing. The ascent started through woods, and fairly soon came out on the exposed side of the hill, before becoming steep and craggy for the final part of the ascent. The summit (948m) had an excellent view both back across to the Arrochar Alps and Loch Lomond, but also across the Crianlarich Hills and Ben Cruachan.
We descended via a slightly less steep route back down to the road, and headed back out along the road, and past the Fyne Ales brewery.
034 - 035: Beinn Vorlich & Ben Vane
In an apparent attempt to start a tradition (which would be somewhat hampered by the events of 2020 and 2021!) I found myself on a train heading up the West Highland Line on the May Day bank holiday, early in the morning. One year after my first solo expedition into the Arrochar Alps, I had unfinished business. I got off at Ardlui, and headed for a short while along the rather terrifying A82 to a place where there was an underpass under the railway from which I could climb up the eastern side of Ben Vorlich.
This isn't the conventional Walk Highlands ascent route, which starts at Loch Sloy dam, but it's the easier one to get to with public transport. This route also has the advantage of taking-in the full length of Vorlich's fairly considerable summit, and meant that I was able to include the top (931m) as well as the summit (943m), which, slightly uncomfortably, isn't located at the trig point or the cairn. My plan had been to try and run as much of this hill as possible, but I'd managed to tire myself out pretty effectively early on, and so it would take until I'd dropped back down to Loch Sloy before I picked the pace back up again. Now on tarmac I happily followed the road, and realised a little late that I was headed straight for Inveruglas rather than my next hill. I reversed course, and headed towards the path up Ben Vane, having added around 5km to my trip.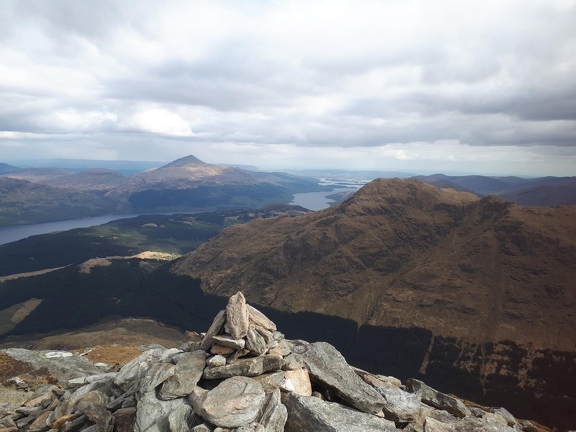 I remember the climb up Ben Vane being painful. I'm not sure if I'd tired myself out a lot by this stage, or I just wasn't used to having this much ascent on a walk after the winter, but it seemed to go on forever, and seemed to be unrelenting. (In fact, I think it's probably quite a nice hill, and I just have unfortunately coloured memories of it). My (at this stage newish) watch was also complaining that it was short on battery, and giving spurious altitude measurements, which didn't do a lot to help morale! The numerous false summits didn't do a lot to help either. However, eventually I did reach the summit (916m), and after taking in a view across the Alps, was soon on my way back towards the dam, and Glen Loin. Oddly, I have this odd, and clearly incorrect memory of the walk back to Arrochar being in the dark; it wasn't. I headed back through Glen Loin, and I'm reasonably sure I managed to get food in Arrochar before catching (presumably the last) train back to Glasgow.
036 - 037: Stob a' Choire Odhair & Stob Ghabhar
As spring had started to turn into summer I had made more plans for big days out in the hills, with the plan being to walk the hills to the south of Glen Shiel. I'd been on Benbecula for the half marathon at the weekend, and was returning via Skye, and planned to pick Andrew up from Armadale, after he'd get the train and ferry up. It was a complicated plan, and perhaps doomed to failure from the beginning. It's reasonably safe to say that the race hadn't gone as I'd hoped (I had, slightly naively, I think) aimed to finish sub-1h30m, and didn't manage it (though I still finished in a respectable time). I was camping the night after the race at Sligachan on Skye. It rained heavily all night. I woke up to find I'd pitched the tent in the middle of a large puddle, and quite quickly everything was soaking, and I was even more miserable than I'd been the day before. (Looking back on all of this I wonder whether some of the misery was also thesis related; I was due to hand that in just over a month later). I chatted to Andrew, and agreed that we should abandon the Glen Shiel plan; the idea of being out for many hours in these conditions wasn't at all attractive, and the forecast wasn't great.
I drove back down to Fort William and pondered my options, and visited friends who'd moved up to Ballachulish a couple of years earlier. Eventually I decided to head back down to Glasgow and allow the tent to dry out.
A day later Andrew and I set out on a rather scaled-back trip to climb the Black Mounth hills (planning really on just doing the two southern-most ones), but camping at Tyndrum overnight in order to get an early start. It turned out that camping was rather limited, and the Tyndrum sites had both been flooded, so we ended up at Strathfillan Farm, on the slopes of Beinn Chaluim, between Tyndrum and Crianlarich.
From there we had an early-ish start, and headed up to Bridge of Orchy, and drove along a the road up to Victoria Bridge; I can't say it felt entirely right driving on this, especially the bits which just felt like the West Highland Way, but we did eventually reach a car park, which eased my concerns a little!
We then set out along an Abhainn Shira up to the Clashgour Hut, which is owned by the University of Glasgow's mountaineering club, and started the climb up the hillside. After a couple of days of fairly foul weather we had come up lucky, and the climb was in the sun, following a good path which headed to the bealach between the day's two summits (so good that we initially missed the point where we needed to turn off, the going was so good). Steps retraced we took a zig-zagging stalkers' path up to the summit of Stob a' Choire Odhar (945m) and in return had a view back over Rannoch Moor and back down the A82 towards Tyndrum.
From here the walk gave us a little compensation for the missed ridge-walk, with the fairly narrow slope dropping off dramatically to the right into the Coirein Lochain, and to the left towards the Coire Toaig we'd walked up in the first place. We eventually reached the Aonach Eagach (not the famous one!) and from there we continued along the ridge to Stob Ghabhar (1087m), following some iron fence posts.
My watch battery died at the summit, but we headed back down following an old fence line and ended up back at Victoria Bridge, having decided we definitely didn't fancy adding in the other two hills and the fairly lengthy walk back along the West Highland Way from the ski centre. (I've since cycled this section of the West Highland Way, and I'm convinced we would have been insufficiently prepared for the midge onslaught we'd have suffered here!)
038: Ben Chonȝie
I still had a hire car for a day after the trip to Benbecula and Bridge of Orchy, and one final trip up a hill was on the cards. This time I was reasonably sure I could manage to run a reasonable portion of the hill, since I'd chosen it fairly carefully for the purpose. Ben Chonȝie was only a couple of hours drive away, meaning provided I left early I could get there, climb it, and be back to Glasgow in time to return the car at 3pm.
In a sense this felt a bit like cheating; a substantial fraction of the climb up Ben Chonȝie is on a bulldozed track, which is unusually runnable for a big hill. Still, you've got to start somewhere. Things started pretty well, but it wasn't long before I discovered just how tough attempting to run up a hill at full pelt is (three years later I'm not sure I've learned this lesson…), and I probably walked more than I ran (which at the time I thought was a bad thing…). Eventually the slope let out, and fence posts appeared which I was able to follow (at a jog) to the summit.
I can't claim that this was the most inspiring hill, though the view across the rolling landscape of Perthshire good.
The descent called for a little more speed, and while I had to walk to negotiate a section of rather boggy terrain (apparently this is something I used to slow down for…) I did manage most of the descent at a fairly slow run, frightening a sheep along the way. I did indeed make it back in time with the car too, completing the whole run in just over 2 hours (at the time certainly a record for my fastest ascent and descent of a hill).
039 - 040: Beinn a' Chochuill & Beinn Eunaich
Another bank holiday, and another pair of munros by train.
This time I was headed up towards Ben Cruachan again, but getting off a stop earlier than the last time, at Loch Awe, and running around from there. The climb up follows a hydro road for a fair distance before starting to climb up to the ridge. It was another warm and sunny day, and I didn't manage to keep a lot of pace for most of the climb, but it wasn't too long before I reached the summit of Beinn a' Chochuill (980m), and was able to set out along the grassy ridge towards the bealach and onwards to Beinn Eunaich (989m). From here the descent was straightforward, and soon enough I was back at the hydro road and back towards Loch Awe. Before getting the train I got (rather expensive) fish and chips at the Ben Cruachan Inn, and headed back to Glasgow.
041 - 043: Càrn Aosda, Càrn a' Ghèoidh, and the Cairnwell
I'd managed to create a bit of a precedent with doing hills on bank holidays over the last two years, but as it turns out I had also managed to start an impressive precedent of taking longer holidays during the one week in Scotland which plays host to all of its thunderstorms. It had also been months since I'd last been up a hill, thanks to my thesis, which I'd submitted a few days before. I hired a car, and booked a tent pitch at the campsite in Braemar, and set off towards the Cairngorms. It was a nice though overcast day to start the trip, and around lunchtime I arrived at Glenshee ski centre, had lunch, and set off up the hillside
I was already a little worried by the forecast, which had thunderstorms in the late afternoon, and so I set out with the intention of covering ground as quickly as possible. Fortunately the climb is short, starting at over 600m from the car park, and following a good path the entire way thanks to the ski workings. It took 25 minutes to reach the peak of Càrn Aosda (917m), which was indicated by perhaps the highest signpost I'd encountered to date in the hills.
From here it was a matter of dropping back down to a bealach and following the broad ridge line along, turning left and climbing towards the Cairnwell, rather than heading straight on for the furthest hill; I was still worried about the weather at this stage. The Cairnwell (933m) has both a building with radio transmitters on the summit, and a chairlift which goes very close to the summit (though was working intermittently at this stage as the wind was now picking up). As ugly as it was, I was glad of the building to shelter by as I ate a snack and decided on a plan.
I did eventually decide to continue on; the third hill, Càrn a' Ghèoidh, would be a nuisance to try and climb without basically retracing this route, and as much as it looked quite far-off I was reasonably confident I could make it there in good time. After forty minutes of walking on the only terrain which could even vaguely be considered remote in this outing I was on the summit (975m) of the tallest of the three hills on this side of the A93. The weather was continuing to deteriorate, and so I headed fairly quickly back towards the bealach between the Cairnwell and Càrn Aosda, and got back to the car pretty quickly.
Most of the rest of the week, in a repeat of the previous year's Fort William trip was wet and stormy. Early August is not, I have learned, optimal Munroing season.

044 - 045: Mayar & Driesh
On the way back from the (from a walking perspective) slightly disappointing Braemar trip I decided I'd try and climb Mayar and Driesh "on the way home". It was the first decent weather I'd had in a week, and it was warm and sunny. As it turns out, Mayar and Driesh aren't really close to the route back to Glasgow, and it was a substantial diversion, though a rather pleasant drive.
The run up started from Glen Doll, initially through trees, but the landscape soon opened up to the amphitheatre-like Corrie Fee, which was in resplendent plumage at this time of year, with the heather at its most purple. Out of the corrie it was a steep climb up to the Mounth, which eased-off a little around 750m, and quite soon I was at the summit of Mayar (928m) and enjoying the view back over the Mounth and the hills I hadn't managed to climb this year. From here the route across to Driesh was across a high bealach, from which the Kilbo Path down into Glen Prosen leads, and it was only a short climb back up to the summit of Driesh which has a trig point surrounded by a dry-stone storm shelter. The descent was from the bealach between the two hills, and was fast, leading back around the edge of the woodland, and eventually meeting the drove and then forestry roads which lead back to the car park.
Share
Share
Share